Research article | 14 Jul 2022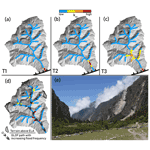 1

Department of Earth and Environmental Systems, Sewanee, The University of the South, Sewanee, TN 37383, USA

2

Department of Earth Sciences, University of Southern California, Los Angeles, CA 90089, USA
Correspondence: Maxwell P. Dahlquist (mpdahlqu@sewanee.edu)
Received: 29 Jun 2021 – Discussion started: 03 Aug 2021 – Revised: 20 May 2022 – Accepted: 24 Jun 2022 – Published: 14 Jul 2022
In steep landscapes, river incision sets the pace of landscape evolution. Transport of coarse sediment controls incision by evacuating material delivered to river channels by landslides. However, large landslide-derived boulders that impede bedrock erosion are immobile even in major runoff-driven floods. Glacial lake outburst floods (GLOFs) mobilize these boulders and drive incision, yet their role in regional-scale erosion is poorly understood, largely because of their rarity. Here, we find a topographic signature consistent with widespread GLOF erosion in the Nepal Himalaya. Our interpretations emerge from the analysis of normalized channel steepness patterns, knickpoint distributions, and valley wideness. In rivers with glaciated headwaters that generate GLOFs, valleys stay narrow and relatively free of sediment, with bedrock often exposed to erosion. In turn, tributaries to these valleys are steep, allowing less efficient erosional regimes to keep pace with GLOF-driven incision. Where GLOFs are less frequent, valleys are more alluviated and incision stalls. Our results suggest that the extent of headwater glaciation may play an important role in the erosion of Himalayan river valleys and deserves more attention in future work.
We evaluated the metrics described above for a region of central Nepal characterized by N–S-trending rivers draining across the Himalayan range (Fig. 1). These rivers differ significantly in the extent of upstream glaciated area at the LGM. To complete topographic analysis of this region, we used the Shuttle Radar Topography Mission (SRTM) 30 m digital elevation model (DEM), patched with the Advanced Spaceborne Thermal Emission and Reflection Radiometer (ASTER) 30 m DEM where voids exist in SRTM. For the knickpoint analysis, we supplemented the 30 m SRTM DEM with the 10 m resolution EarthDEM (Center, 2021). Since we were not concerned with resolving small-scale features in our ksn analysis and the EarthDEM contains more voids and artifacts than the SRTM, we determined that the lower-resolution DEM was more appropriate for ksn applications. Topographic metrics were calculated using the TopoToolbox and Topographic Analysis Kit packages for MATLAB, and the DEM was preprocessed to remove outliers and impose a minimum downstream gradient for analysis of channel profiles (Schwanghart and Scherler, 2014; Forte and Whipple, 2019). In this section, we provide further detail on the determination of these metrics.
4.1

 The physiographic transition: shift from "top–down" to "bottom–up" erosion and complicating factors

Altogether, our analysis suggests that rivers in the central Himalaya bear characteristic signatures of erosion by glacial outburst floods, suggesting that these events are an important but largely under-recognized mechanism of regional incision. Yet GLOFs can only be effective so far downstream. Cook et al. (2018) studied two major GLOFs in the Bhote Koshi valley, occurring in 1981 and 2016, and identified the location of rollover points along the downstream river profile where GLOF discharges attenuated to the point that a monsoon flood with the same recurrence would have greater discharge. Through the 20th and into the 21st centuries, the Bhote Koshi river has experienced GLOFs on a roughly 30-year recurrence (Mool, 1995), suggesting that the events studied by Cook et al. (2018) may be representative of typical GLOF-driven erosion in this watershed. These rollover points lie very near the prominent physiographic transition (PT) that separates the precipitous High Himalaya from the gentler Middle Hills to the south (Fig. 1). The abruptness of the PT reflects the topographic response to a steep gradient in uplift rate and is associated with a pronounced increase in erosion rates from south to north (Burbank et al., 2003; Wobus et al., 2006c; Godard et al., 2014). Over much of its length, the PT also represents a contact between the low-grade Lesser Himalayan Sequence and high-grade High Himalayan Sequence. In our study area, the Kathmandu Nappe juxtaposes High Himalayan rocks with the Lesser Himalaya physiographic region, with no obvious effect on the local topography (Gansser, 1964), although lithology probably plays some role in controlling the PT. In many regions, lithology is an important control on landsliding and thus the formation of landslide-dammed lakes and on the rate of breakdown of coarse sediment in channels by fluvial action, an alternative mechanism for the mobilization of coarse sediment without necessitating outburst floods (Sternberg, 1875; Gerrard, 1994; Sklar and Dietrich, 2001; Dingle et al., 2017). However, for landslides triggered by the 2015 Gorkha Earthquake, Roback et al. (2018) observed no clear lithologic control, and landslide rates are likely considerably lower in the Middle Hills than the High Himalaya (West et al., 2015).

In this study, we found no significant difference in tributary steepness above and below the PT, though we did identify a subtle increase in potentially GLOF-driven knickpoint generation above the PT (Fig. 4). Overall, the influence that GLOFs appear to have on channel steepness, valley width, and knickpoint generation hints at the possibility of an erosional process domain shift playing a role in the position and nature of major topographic transitions. Specifically, the PT may represent the position above which top–down GLOF-driven incision is prominent enough to maintain a persistent topographic signature. We identified a potential piece of evidence in the knickpoint inventory that hints at a possible supporting role for GLOFs in defining the PT by a process domain transition – since the extent of upstream glaciation seems to have a role in controlling knickpoint generation above the PT but less so below it. This interpretation would be consistent with the locations of the rollover points between GLOFs and monsoon floods in the Bhote Koshi.

A shift in process domain could also explain why we do not find distinct relationships between our topographic metrics and rates of uplift or erosion. However, we also recognize that these patterns may be due to the erosional role of landslide lake outburst floods (LLOFs), which can occur almost anywhere in the Himalayan river network, including the Middle Hills, and may be more frequent than GLOFs. For example, in the upper Sutlej River basin, eight LLOFs have occurred since 1973, comparable in peak discharge with the 1981 and 2016 Bhote Koshi floods, and the 2015 Gorkha earthquake triggered 25 000 landslides forming at least 69 landslide dams (Collins and Jibson, 2015; Ruiz-Villanueva et al., 2017; Roback et al., 2018). If LLOFs are more frequent and widespread but just as geomorphically effective, the signature of GLOFs may be subtle by comparison, although a top–down erosional regime might still be in force. The distribution of different types of landslide dams in space and time, more varied terrain in which they can occur, and the range of potential magnitudes makes adequate consideration of LLOFs unfeasible in this study (Fan et al., 2020). However, we note that comparison of erosion rates over multiple timescales in this region of the Himalaya suggests a limited role for landslide-driven erosion in the Middle Hills (West et al., 2015) – suggesting that LLOF-driven erosion, like GLOF-driven erosion, may be less pronounced below the PT than above. Nonetheless, we recognize that the interplay of GLOF and LLOF processes is poorly constrained, and we hope that this work serves as a starting point for inquiry into their effects as regional agents of erosion. Further complicating the topographic picture is the fact that outburst floods are triggers of landslides along their paths, providing more opportunities for landslide lakes to form and ultimately drain in LLOFs. The interplay of different types of catastrophic floods and their aftermath makes it difficult to isolate the effect of GLOFs independent of other types of outburst flood. We expect that these inter-relationships may be responsible for much of the substantial scatter in our topographic data.
4.2

 Implications for development of fluvial hanging valleys

Fluvial hanging valleys – steepened tributary reaches near their confluence with main stem rivers – have been identified previously in the Himalaya and elsewhere (Wobus et al., 2006b; Goode and Burbank, 2009). While often considered enigmatic features, their persistence in the landscape has been explained by erosional mechanics that produce lower erosional efficiency in steeper river reaches with low sediment flux, during conditions of effective base level fall driven by rapid incision in main stem channels (Crosby et al., 2007; Goode and Burbank, 2009). Coarse, frequently immobile landslide-derived sediment in tributaries (Cook et al., 2018; Huber et al., 2020) coupled by GLOF-driven main stem incision may contribute to conditions favoring fluvial hanging valleys without conflict with the present theory of their formation. Furthermore, in our analysis of valley wideness we find that repeated GLOFs may inhibit trunk stream aggradation, which degrades fluvial hanging valleys (Goode and Burbank, 2009). Not all of the steepened zones near confluences that we have identified represent true hanging valley geometry, but our analysis of knickpoint prevalence in tributaries to glaciated rivers may suggest that repeated outburst floods in a trunk stream may, under the correct conditions, control main stem river incision and contribute to generating and maintaining fluvial hanging valleys. In this case, we explain the formation of these features as resulting from base level fall in tributaries caused by rapid GLOF-driven incision of the main stem. This produces persistent knickpoints at confluences where unglaciated tributaries enter trunk channels with upstream glaciation (Fig. 2d–e), while processes that may maintain fluvial hanging valley geometry, such as infrequently mobile boulders in tributary channels and effective clearing of sediment in main stems, are enhanced by GLOFs (Wobus et al., 2006b; Crosby et al., 2007; Goode and Burbank, 2009). We thus propose a connection between the formation of fluvial hanging valleys and upstream glaciation that leads to GLOF-driven erosion in the main stem. Though the difference in knickpoint (and fluvial hanging valley by proxy) distribution that we observe associated with inferred GLOF activity is small, we expect many GLOF-associated tributary knickpoints to be smaller than would be picked up by the 10 m DEM we have used. Future work might target analyses with higher-resolution topographic data, perhaps over smaller areas, to investigate smaller features.
4.3

 Landscape evolution from the top down

A simple end-member model of fluvial incision involves the formation of a knickpoint, or localized steepening, in response to uplift which manifests as a drop in a river's base level (Whipple and Tucker, 1999) (Fig. 2a–c). In this model, increased steepness causes localized increases in erosion, and the knickpoint propagates upstream. Complexity in this process of incision and knickpoint propagation has been increasingly recognized: channels dominated by bed load abrasion may have knickpoint retreat rates that are decoupled from overall incision rates (Jansen et al., 2011; Wilson et al., 2013), and knickpoints may be smoothed out over years to decades in the presence of copious bed load and sufficient discharge (Cook et al., 2013).

Our analysis of Himalayan river channels suggests that top–down incision driven by GLOFs may be another important factor in driving erosion and determining channel morphology in glaciated mountain belts. Based on relationships we have documented between the area of glaciated headwaters, tributary channel steepness, knickpoint occurrence, and valley widths, we propose that incision processes in the High Himalayan rivers of central Nepal are influenced in important ways from above, by outburst floods from the headwaters of the trunk streams. A critical controlling factor for the geometry of tributaries is their steepening in response to GLOF erosion.

If this process is as pervasive elsewhere as our data suggest it is in the central Himalaya, it would have significant implications for the evolution of orogens in response to tectonic and climatic forcing. In particular, an important role for GLOF erosion, such as that we have identified, implies that the relationship between tectonics and erosion may be modulated by the migration of the ELA. If uplift pushes terrain above the ELA, it could create new glaciers and glacial lakes that, in turn, accelerate GLOF-driven incision. This feedback, in tandem with the propagation of knickpoints from below, could link uplift and erosion rates in ways not captured in current models of landscape evolution. Alongside the effect of tectonics, climatic shifts can drive the ELA to higher or lower elevations, shifting dominant process domains and their signature relief structures to higher or lower elevations. Studies of landscape evolution and interpretations of river channel morphology and network geometry in mountainous environments should consider the influence of outburst floods as regional drivers of erosion, even where glaciers are no longer present. Altogether, our results suggest a rethinking is warranted of classic models of mountain river system evolution, to consider the role of glacial outburst floods as regional controls on erosion.
We found several lines of topographic evidence consistent with GLOF-controlled incision in rivers with glaciated headwaters in the Nepal Himalaya. Tributaries to GLOF-prone rivers are steeper than tributaries to non-glaciated rivers, and increasing extent of upstream glaciation in the trunk stream (and thus increasing GLOF frequency) increases this effect. We also found that the knickpoints are more numerous on tributaries to trunk streams with more glaciated terrain upstream, which provides further evidence for the steepening response that highly efficiently eroding outburst flood-dominated channels stimulate in their tributaries.
Additionally, rivers with glaciated headwaters have systematically narrower valleys than unglaciated rivers, indicating that GLOFs effectively sweep coarse alluvium from valleys and expose bedrock to erosion. This effect is increasingly prominent with more upstream glaciation. Alongside previously reported evidence that outburst floods alone can mobilize the large boulders that frequently armor channels in major Himalayan rivers, the regional topographic analysis presented here suggests that GLOFs and other outburst floods, such as landslide lake outburst floods, may be a key erosional mechanism in these rivers. Our results point to a top–down model for valley incision in the Himalaya, in which erosion may be coupled to tectonics by uplift driving terrain above the ELA, expanding the reach of GLOFs, as opposed to (or in addition to) tectonically generated knickpoints propagating throughout Himalayan catchments from base level. GLOF-driven erosion may be important in other glaciated mountain ranges, appears to be independent of uplift and erosion rates, and should be considered in erosion models for such landscapes.
MPD and AJW conceived the study. MPD performed the analyses. MPD and AJW wrote the paper.
At least one of the (co-)authors is a member of the editorial board of Earth Surface Dynamics. The peer-review process was guided by an independent editor, and the authors also have no other competing interests to declare.
Publisher's note: Copernicus Publications remains neutral with regard to jurisdictional claims in published maps and institutional affiliations.
We thank Kristen Cook, Jens Turowski, Georg Veh, and Missy Eppes for helpful discussions. We also thank William Medwedeff for the photograph used in Fig. 2 and Wolfgang Schwanghart for editorial handling. John Jansen, Christoff Andermann, and an anonymous reviewer contributed insightful comments that greatly improved this paper. Geospatial support for this work was provided by the Polar Geospatial Center under NSF-OPP awards 1043681 and 1559691.
This research has been supported by the National Science Foundation (grant no. EAR-1640894).
This paper was edited by Wolfgang Schwanghart and reviewed by John Jansen, Christoff Andermann, and one anonymous referee.
Allen, G. H., Barnes, J. B., Pavelsky, T. M., and Kirby, E.: Lithologic and tectonic controls on bedrock channel form at the northwest Himalayan front: Bedrock Channel Form, Mohand, India, J. Geophys. Res.-Earth Surf., 118, 1806–1825, https://doi.org/10.1002/jgrf.20113, 2013. a, b
Asahi, K.: Equilibrium-line altitudes of the present and Last Glacial Maximum in the eastern Nepal Himalayas and their implications for SW monsoon climate, Quatern. Int., 212, 26–34, https://doi.org/10.1016/j.quaint.2008.08.004, 2010. a, b
Baynes, E. R. C., Attal, M., Niedermann, S., Kirstein, L. A., Dugmore, A. J., and Naylor, M.: Erosion during extreme flood events dominates Holocene canyon evolution in northeast Iceland, P. Natl. Acad. Sci., 112, 2355–2360, https://doi.org/10.1073/pnas.1415443112, 2015. a
Bharti, V. and Singh, C.: Evaluation of error in TRMM 3B42V7 precipitation estimates over the Himalayan region: Evaluation Of Error In TRMM, J. Geophys. Res.-Atmos., 120, 12458–12473, https://doi.org/10.1002/2015JD023779, 2015. a
Bookhagen, B.: High Resolution Spatiotemporal Distribution of Rainfall Seasonality and Extreme Events Based on a 12-year TRMM Time Series, ucsb [data set], http://www.geog.ucsb.edu/~bodo/TRMM/index.php (last access: 26 April 2022), 2013. a
Bookhagen, B. and Burbank, D. W.: Topography, relief, and TRMM-derived rainfall variations along the Himalaya, Geophys. Res. Lett., 33, L08405, https://doi.org/10.1029/2006GL026037. a
Bookhagen, B. and Burbank, D. W.: Toward a complete Himalayan hydrological budget: Spatiotemporal distribution of snowmelt and rainfall and their impact on river discharge, J. Geophys. Res., 115, F03019, https://doi.org/10.1029/2009JF001426, 2010. a, b
Brozović, N., Burbank, D. W., and Meigs, A. J.: Climatic Limits on Landscape Development in the Northwestern Himalaya, Science, 276, 571, https://doi.org/10.1126/science.276.5312.571, 1997. a
Burbank, D. W., Blythe, A. E., Putkonen, J., Pratt-Sitaula, B., Gabet, E., Oskin, M., Barros, A., and Ojha, T. P.: Decoupling of erosion and precipitation in the Himalayas, Nature, 426, 652–655, https://doi.org/10.1038/nature02187, 2003. a, b
Cenderelli, D. A. and Wohl, E. E.: Flow hydraulics and geomorphic effects of glacial-lake outburst floods in the Mount Everest region, Nepal, Earth Surf. Proc. Land., 28, 385–407, https://doi.org/10.1002/esp.448, 2003. a, b
Center, P. G.: EarthDEM – Polar Geospatial Center, EarthDEM [data set], https://www.pgc.umn.edu/data/earthdem/ (last access: 11 January 2022), 2021. a, b
Collins, B. D. and Jibson, R. W.: Assessment of Existing and Potential Landslide Hazards Resulting from the 25 April 2015 Gorkha, Nepal Earthquake Sequence, U.S. Geological Survey Open-File Report 2015-1142, 50 p., https://doi.org/10.3133/ofr20151142, 2015. a
Cook, K. L., Turowski, J. M., and Hovius, N.: A demonstration of the importance of bedload transport for fluvial bedrock erosion and knickpoint propagation: Bedload Transport And Fluvial Incision, Earth Surf. Proc. Land., 38, 683–695, https://doi.org/10.1002/esp.3313, 2013. a
Cook, K. L., Andermann, C., Gimbert, F., Adhikari, B. R., and Hovius, N.: Glacial lake outburst floods as drivers of fluvial erosion in the Himalaya, Science, 362, 53–57, https://doi.org/10.1126/science.aat4981, 2018. a, b, c, d, e, f, g, h, i, j
Croissant, T., Lague, D., Steer, P., and Davy, P.: Rapid post-seismic landslide evacuation boosted by dynamic river width, Nat. Geosci., 10, 680–684, https://doi.org/10.1038/ngeo3005, 2017. a
Crosby, B. T. and Whipple, K. X.: Knickpoint initiation and distribution within fluvial networks: 236 waterfalls in the Waipaoa River, North Island, New Zealand, Geomorphology, 82, 16–38, https://doi.org/10.1016/j.geomorph.2005.08.023, 2006. a
Crosby, B. T., Whipple, K. X., Gasparini, N. M., and Wobus, C. W.: Formation of fluvial hanging valleys: Theory and simulation, J. Geophys. Res., 112, F3, https://doi.org/10.1029/2006JF000566, 2007. a, b, c
Cunningham, M. T., Stark, C. P., Kaplan, M. R., and Schaefer, J. M.: Glacial limitation of tropical mountain height, Earth Surf. Dynam., 7, 147–169, https://doi.org/10.5194/esurf-7-147-2019, 2019. a
Dahlquist, M. P. and West, A. J.: Initiation and Runout of Post‐Seismic Debris Flows: Insights From the 2015 Gorkha Earthquake, Geophys. Res. Lett., 46, 9658–9668, https://doi.org/10.1029/2019GL083548, 2019. a
Dahlquist, M. P. and West, A. J.: Data for: The imprint of erosion by glacial lake outburst floods in the topography of central Himalayan rivers, hydroshare [data set], http://www.hydroshare.org/resource/2883cfeebb3a43f2b9a1b222e2cfff29, last access: 27 June 2022. a
Davis, W. M.: Glacial Erosion in France, Switzerland and Norway, Proc. Boston Soc. Nat. History, 29, 273–321, 1900. a
DiBiase, R. A. and Whipple, K. X.: The influence of erosion thresholds and runoff variability on the relationships among topography, climate, and erosion rate, J. Geophys. Res., 116, F4, https://doi.org/10.1029/2011JF002095, 2011. a, b
Dingle, E. H., Attal, M., and Sinclair, H. D.: Abrasion-set limits on Himalayan gravel flux, Nature, 544, 471–474, https://doi.org/10.1038/nature22039, 2017. a
Egholm, D. L., Nielsen, S. B., Pedersen, V. K., and Lesemann, J.-E.: Glacial effects limiting mountain height, Nature, 460, 884–887, https://doi.org/10.1038/nature08263, 2009. a
Fan, X., Dufresne, A., Siva Subramanian, S., Strom, A., Hermanns, R., Tacconi Stefanelli, C., Hewitt, K., Yunus, A. P., Dunning, S., Capra, L., Geertsema, M., Miller, B., Casagli, N., Jansen, J. D., and Xu, Q.: The formation and impact of landslide dams – State of the art, Earth-Sci. Rev., 203, 103116, https://doi.org/10.1016/j.earscirev.2020.103116, 2020. a
Finnegan, N. J., Roe, G., Montgomery, D. R., and Hallet, B.: Controls on the channel width of rivers: Implications for modeling fluvial incision of bedrock, Geology, 33, 229, https://doi.org/10.1130/G21171.1, 2005. a
Finnegan, N. J., Schumer, R., and Finnegan, S.: A signature of transience in bedrock river incision rates over timescales of 104–107 years, Nature, 505, 391–394, https://doi.org/10.1038/nature12913, 2014. a
Fischer, M., Korup, O., Veh, G., and Walz, A.: Controls of outbursts of moraine-dammed lakes in the greater Himalayan region, The Cryosphere, 15, 4145–4163, https://doi.org/10.5194/tc-15-4145-2021, 2021. a, b
Flint, J. J.: Stream gradient as a function of order, magnitude, and discharge, Water Resour. Res., 10, 969–973, https://doi.org/10.1029/WR010i005p00969, 1974. a, b
Forte, A. M. and Whipple, K. X.: Short communication: The Topographic Analysis Kit (TAK) for TopoToolbox, Earth Surf. Dynam., 7, 87–95, https://doi.org/10.5194/esurf-7-87-2019, 2019. a, b
Gansser, A.: Geology of the Himalayas, ed., Regional Geology Series, John Wiley and Sons Ltd, London, New York, Sydney (tr. Zurich), OCLC 463197816, 1964. a
Gardner, T. W., Jorgensen, D. W., Shuman, C., and Lemieux, R., C.: Geomorphic and tectonic process rates: Effects of measured time interval, Geology, 15, 259–261, 1987. a
Gerrard, J.: The landslide hazard in the Himalayas: geological control and human action, Geomorphology, 10, 221–230, 1994. a
Godard, V., Bourles, D. L., Spinabella, F., Burbank, D. W., Bookhagen, B., Fisher, G. B., Moulin, A., and Leanni, L.: Dominance of tectonics over climate in Himalayan denudation, Geology, 42, 243–246, https://doi.org/10.1130/G35342.1, 2014. a, b, c, d, e, f
Goode, J. K. and Burbank, D. W.: Numerical study of degradation of fluvial hanging valleys due to climate change, J. Geophys. Res., 114, F1, https://doi.org/10.1029/2007JF000965, 2009. a, b, c, d, e
Haeberli, W.: Frequency and Characteristics of Glacier Floods in the Swiss Alps, Ann. Glaciol., 4, 85–90, https://doi.org/10.3189/S0260305500005280, 1983. a
Hewitt, K.: Catastrophic landslides and their effects on the Upper Indus streams, Karakoram Himalaya, northern Pakistan, Geomorphology, 26, 47–80, https://doi.org/10.1016/S0169-555X(98)00051-8, 1998. a
Hilton, R. G. and West, A. J.: Mountains, erosion and the carbon cycle, Nat. Rev. Earth Environ., 1, 284–299, https://doi.org/10.1038/s43017-020-0058-6, 2020. a
Howard, A. D.: A detachment-limited model of drainage basin evolution, Water Resour. Res., 30, 2261–2285, https://doi.org/10.1029/94WR00757, 1994. a, b, c
Huber, M. L., Lupker, M., Gallen, S. F., Christl, M., and Gajurel, A. P.: Timing of exotic, far-traveled boulder emplacement and paleo-outburst flooding in the central Himalayas, Earth Surf. Dynam., 8, 769–787, https://doi.org/10.5194/esurf-8-769-2020, 2020. a, b, c
Jacquet, J., McCoy, S. W., McGrath, D., Nimick, D. A., Fahey, M., O'kuinghttons, J., Friesen, B. A., and Leidich, J.: Hydrologic and geomorphic changes resulting from episodic glacial lake outburst floods: Rio Colonia, Patagonia, Chile, Geophys. Res. Lett., 44, 854–864, https://doi.org/10.1002/2016GL071374, 2017. a
Jansen, J. D., Fabel, D., Bishop, P., Xu, S., Schnabel, C., and Codilean, A. T.: Does decreasing paraglacial sediment supply slow knickpoint retreat?, Geology, 39, 543–546, https://doi.org/10.1130/G32018.1, 2011. a
Kirby, E. and Whipple, K.: Quantifying differential rock-uplift rates via stream profile analysis, Geology, 29, 415, https://doi.org/10.1130/0091-7613(2001)029<0415:QDRURV>2.0.CO;2, 2001. a
Kirchner, J. W., Finkel, R. C., Riebe, C. S., Granger, D. E., Clayton, J. L., King, J. G., and Megahan, W. F.: Mountain erosion over 10 yr, 10 k.y., and 10 m.y. time scales, Geology, 29, 591, https://doi.org/10.1130/0091-7613(2001)029<0591:MEOYKY>2.0.CO;2, 2001. a
Kirchner, N., Greve, R., Stroeven, A. P., and Heyman, J.: Paleoglaciological reconstructions for the Tibetan Plateau during the last glacial cycle: evaluating numerical ice sheet simulations driven by GCM-ensembles, Quaternary Sci. Rev., 30, 248–267, https://doi.org/10.1016/j.quascirev.2010.11.006, 2011. a, b, c
Korup, O. and Tweed, F.: Ice, moraine, and landslide dams in mountainous terrain, Quaternary Sci. Rev., 26, 3406–3422, https://doi.org/10.1016/j.quascirev.2007.10.012, 2007. a
Korup, O., Montgomery, D. R., and Hewitt, K.: Glacier and landslide feedbacks to topographic relief in the Himalayan syntaxes, Proc. Natl. Acad. Sci., 107, 5317–5322, https://doi.org/10.1073/pnas.0907531107, 2010. a
Kummerow, C., Barnes, W., Kozu, T., Shiue, J., and Simpson, J.: The Tropical Rainfall Measuring Mission (TRMM) Sensor Package, J. Atmos. Ocean. Technol., 15, 809–817, https://doi.org/10.1175/1520-0426(1998)015<0809:TTRMMT>2.0.CO;2, 1998. a
Lague, D., Hovius, N., and Davy, P.: Discharge, discharge variability, and the bedrock channel profile: Discharge Variability And Channel Profile, J. Geophys. Res.-Earth Surf., 110, F04006, https://doi.org/10.1029/2004JF000259, 2005. a
Lang, K. A., Huntington, K. W., and Montgomery, D. R.: Erosion of the Tsangpo Gorge by megafloods, Eastern Himalaya, Geology, 41, 1003–1006, https://doi.org/10.1130/G34693.1, 2013. a
Larsen, I. J. and Montgomery, D. R.: Landslide erosion coupled to tectonics and river incision, Nat. Geosci., 5, 468–473, https://doi.org/10.1038/ngeo1479, 2012. a
Lavé, J. and Avouac, J. P.: Fluvial incision and tectonic uplift across the Himalayas of central Nepal, J. Geophys. Res., 106, 26561–26591, https://doi.org/10.1029/2001JB000359, 2001. a, b, c, d
Leopold, L. B. and Maddock, T.: The Hydraulic Geometry of Stream Channels and Some Physiographic Implications, US Geological Survey Professional Paper 252, p. 57, https://doi.org/10.3133/pp252, 1953. a, b
Lutz, A. F., Immerzeel, W. W., Shrestha, A. B., and Bierkens, M. F. P.: Consistent increase in High Asia's runoff due to increasing glacier melt and precipitation, Nat. Clim. Change, 4, 587–592, https://doi.org/10.1038/nclimate2237, 2014. a
Ma, N., Szilagyi, J., Zhang, Y., and Liu, W.: Complementary‐Relationship‐Based Modeling of Terrestrial Evapotranspiration Across China During 1982–2012: Validations and Spatiotemporal Analyses, J. Geophys. Res.-Atmos., 124, 4326–4351, https://doi.org/10.1029/2018JD029850, 2019. a
Martens, B., Miralles, D. G., Lievens, H., van der Schalie, R., de Jeu, R. A. M., Fernández-Prieto, D., Beck, H. E., Dorigo, W. A., and Verhoest, N. E. C.: GLEAM v3: satellite-based land evaporation and root-zone soil moisture, Geosci. Model Dev., 10, 1903–1925, https://doi.org/10.5194/gmd-10-1903-2017, 2017. a
Mason, K.: Indus floods and Shyok glaciers, The Himalayan Journal, 1, 10–29, 1929. a
Massey, F. J.: The Kolmogorov-Smirnov Test for Goodness of Fit, J. Am. Stat. Assoc., 46, 68–78, 1951. a
Montgomery, D. R. and Foufoula-Georgiou, E.: Channel network source representation using digital elevation models, Water Resour. Res., 29, 3925–3934, https://doi.org/10.1029/93WR02463, 1993. a
Montgomery, D. R., Hallet, B., Yuping, L., Finnegan, N., Anders, A., Gillespie, A., and Greenberg, H. M.: Evidence for Holocene megafloods down the tsangpo River gorge, Southeastern Tibet, Quaternary Res., 62, 201–207, https://doi.org/10.1016/j.yqres.2004.06.008, 2004. a
Mool, P. K.: Glacier Lake Outburst Floods in Nepal, J. Nepal Geol. Soc., 11, 273–280, https://doi.org/10.3126/jngs.v11i0.32802, 1995. a
Pickering, J., Diamond, M., Goodbred, S., Grall, C., Martin, J., Palamenghi, L., Paola, C., Schwenk, T., Sincavage, R., and Spieß, V.: Impact of glacial-lake paleofloods on valley development since glacial termination II: A conundrum of hydrology and scale for the lowstand Brahmaputra-Jamuna paleovalley system, GSA Bulletin, 131, 58–70, https://doi.org/10.1130/B31941.1, 2019. a, b
Prasicek, G., Herman, F., Robl, J., and Braun, J.: Glacial Steady State Topography Controlled by the Coupled Influence of Tectonics and Climate, J. Geophys. Res.-Earth Surf., 123, 1344–1362, https://doi.org/10.1029/2017JF004559, 2018. a
Ray, Y. and Srivastava, P.: Widespread aggradation in the mountainous catchment of the Alaknanda–Ganga River System: timescales and implications to Hinterland–foreland relationships, Quaternary Sci. Rev., 29, 2238–2260, https://doi.org/10.1016/j.quascirev.2010.05.023, 2010. a, b
Raymo, M. E. and Ruddiman, W. F.: Tectonic forcing of late Cenozoic climate, Nature, 359, 117–122, https://doi.org/10.1038/359117a0, 1992. a
Roback, K., Clark, M. K., West, A. J., Zekkos, D., Li, G., Gallen, S. F., Chamlagain, D., and Godt, J. W.: The size, distribution, and mobility of landslides caused by the 2015 M w 7.8 Gorkha earthquake, Nepal, Geomorphology, 301, 121–138, https://doi.org/10.1016/j.geomorph.2017.01.030, 2018. a, b
Roe, G. H., Montgomery, D. R., and Hallet, B.: Orographic precipitation and the relief of mountain ranges: Orographic Precipitation And Relief, J. Geophys. Res.-Solid Earth, 108, B6, https://doi.org/10.1029/2001JB001521, 2003. a
Rosenbloom, N. A. and Anderson, R. S.: Hillslope and channel evolution in a marine terraced landscape, Santa Cruz, California, J. Geophys. Res., 99, 14013–14029, https://doi.org/10.1029/94JB00048, 1994. a
Ruiz-Villanueva, V., Allen, S., Arora, M., Goel, N. K., and Stoffel, M.: Recent catastrophic landslide lake outburst floods in the Himalayan mountain range, Prog. Phys. Geog.-Earth Environ., 41, 3–28, https://doi.org/10.1177/0309133316658614, 2017. a
Scherler, D., Munack, H., Mey, J., Eugster, P., Wittmann, H., Codilean, A. T., Kubik, P., and Strecker, M. R.: Ice dams, outburst floods, and glacial incision at the western margin of the Tibetan Plateau: A >100 k.y. chronology from the Shyok Valley, Karakoram, Geol. Soc. Am. Bull., 126, 738–758, https://doi.org/10.1130/B30942.1, 2014. a
Schwanghart, W. and Scherler, D.: Short Communication: TopoToolbox 2 – MATLAB-based software for topographic analysis and modeling in Earth surface sciences, Earth Surf. Dynam., 2, 1–7, https://doi.org/10.5194/esurf-2-1-2014, 2014. a, b
Schwanghart, W., Bernhardt, A., Stolle, A., Hoelzmann, P., Adhikari, B. R., Andermann, C., Tofelde, S., Merchel, S., Rugel, G., Fort, M., and Korup, O.: Repeated catastrophic valley infill following medieval earthquakes in the Nepal Himalaya, Science, 351, 147–150, https://doi.org/10.1126/science.aac9865, 2016. a, b
Schwanghart, W., Molkenthin, C., and Scherler, D.: A systematic approach and software for the analysis of point patterns on river networks, Earth Surf. Proc. Land., 46, 1847–1862, https://doi.org/10.1002/esp.5127, 2021. a, b
Shields, A.: Application of similarity principles and turbulence research to bed-load movement, CalTech library, Soil Conservation Service Cooperative Laboratory, 25992, https://resolver.caltech.edu/CaltechKHR:HydroLabpub167 (last access: 11 July 2022), 1936. a
Sklar, L. S. and Dietrich, W. E.: Sediment and rock strength controls on river incision into bedrock, Geology, 29, 1087, https://doi.org/10.1130/0091-7613(2001)029<1087:SARSCO>2.0.CO;2, 2001. a, b
Sklar, L. S. and Dietrich, W. E.: The role of sediment in controlling steady-state bedrock channel slope: Implications of the saltation–abrasion incision model, Geomorphology, 82, 58–83, https://doi.org/10.1016/j.geomorph.2005.08.019, 2006. a
Snyder, N. P., Whipple, K. X., Tucker, G. E., and Merritts, D. J.: Importance of a stochastic distribution of floods and erosion thresholds in the bedrock river incision problem: Floods And Thresholds In River Incision, J. Geophys. Res.: Solid Earth, 108, B2, https://doi.org/10.1029/2001JB001655, 2003. a
Spearman, C.: The Proof and Measurement of Association between Two Things, The American Journal of Psychology, 100, 441–471, 1987. a
Steer, P., Simoes, M., Cattin, R., and Shyu, J. B. H.: Erosion influences the seismicity of active thrust faults, Nat. Commun., 5, 5564, https://doi.org/10.1038/ncomms6564, 2014. a
Sternberg, H.: Untersuchungen über längen- und Querprofil geschiebeführender Flüsse, Zeitschrift für Bauwesen, 25, 486–506, 1875. a
Stock, J. D. and Dietrich, W. E.: Erosion of steepland valleys by debris flows, Geol. Soc. Am. Bull., 118, 1125–1148, 2006. a, b
Thomson, S. N., Brandon, M. T., Tomkin, J. H., Reiners, P. W., Vásquez, C., and Wilson, N. J.: Glaciation as a destructive and constructive control on mountain building, Nature, 467, 313–317, https://doi.org/10.1038/nature09365, 2010. a
Turowski, J. M., Yager, E. M., Badoux, A., Rickenmann, D., and Molnar, P.: The impact of exceptional events on erosion, bedload transport and channel stability in a step-pool channel, Earth Surf. Proc. Land., 34, 1661–1673, https://doi.org/10.1002/esp.1855, 2009. a
Veh, G., Korup, O., von Specht, S., Roessner, S., and Walz, A.: Unchanged frequency of moraine-dammed glacial lake outburst floods in the Himalaya, Nat. Clim. Change, 9, 379–383, https://doi.org/10.1038/s41558-019-0437-5, 2019. a
Veh, G., Korup, O., and Walz, A.: Hazard from Himalayan glacier lake outburst floods, P. Natl. Acad. Sci., 117, 907–912, https://doi.org/10.1073/pnas.1914898117, 2020. a
West, A. J., Arnold, M., AumaÎtre, G., Bourlès, D. L., Keddadouche, K., Bickle, M., and Ojha, T.: High natural erosion rates are the backdrop for present-day soil erosion in the agricultural Middle Hills of Nepal, Earth Surf. Dynam., 3, 363–387, https://doi.org/10.5194/esurf-3-363-2015, 2015. a, b
Whipple, K. X. and Tucker, G. E.: Dynamics of the stream-power river incision model: Implications for height limits of mountain ranges, landscape response timescales, and research needs, J. Geophys. Res.-Solid Earth, 104, 17661–17674, https://doi.org/10.1029/1999JB900120, 1999. a, b, c, d, e
Whittaker, A. C.: How do landscapes record tectonics and climate?, Lithosphere, 4, 160–164, https://doi.org/10.1130/RF.L003.1, 2012. a
Willett, S. D. and Brandon, M. T.: On steady states in mountain belts, Geology, 30, 175, https://doi.org/10.1130/0091-7613(2002)030<0175:OSSIMB>2.0.CO;2, 2002. a
Wilson, A., Hovius, N., and Turowski, J. M.: Upstream-facing convex surfaces: Bedrock bedforms produced by fluvial bedload abrasion, Geomorphology, 180–181, 187–204, https://doi.org/10.1016/j.geomorph.2012.10.010, 2013. a
Wobus, C., Whipple, K. X., Kirby, E., Snyder, N., Johnson, J., Spyropolou, K., Crosby, B., and Sheehan, D.: Tectonics from topography: Procedures, promise, and pitfalls, in: Special Paper 398: Tectonics, Climate, and Landscape Evolution, Geol. Soc. Am., 398, 55–74, https://doi.org/10.1130/2006.2398(04), 2006a. a, b
Wobus, C. W., Crosby, B. T., and Whipple, K. X.: Hanging valleys in fluvial systems: Controls on occurrence and implications for landscape evolution, J. Geophys. Res.-Earth Surf., 111, F02017, https://doi.org/10.1029/2005JF000406, 2006b. a, b
Wobus, C. W., Whipple, K. X., and Hodges, K. V.: Neotectonics of the central Nepalese Himalaya: Constraints from geomorphology, detrital 40 Ar/ 39 Ar thermochronology, and thermal modeling: Neotectonics Of Central Nepal, Tectonics, 25, 4, https://doi.org/10.1029/2005TC001935, 2006c. a
Xu, D.: Characteristics of debris flow caused by outburst of glacial lake in Boqu river, Xizang, China, 1981, GeoJournal, 17, 569–580, https://doi.org/10.1007/BF00209443, 1988. a
Yanites, B. J.: The Dynamics of Channel Slope, Width, and Sediment in Actively Eroding Bedrock River Systems, J. Geophys. Res.-Earth Surf., 123, 1504–1527, https://doi.org/10.1029/2017JF004405, 2018. a
Yanites, B. J., Mitchell, N. A., Bregy, J. C., Carlson, G. A., Cataldo, K., Holahan, M., Johnston, G. H., Nelson, A., Valenza, J., and Wanker, M.: Landslides control the spatial and temporal variation of channel width in southern Taiwan: Implications for landscape evolution and cascading hazards in steep, tectonically active landscapes: Variation in channel morphology controlled by landslides in s. Taiwan, Earth Surf. Proc. Land., 43, 1782–1797, https://doi.org/10.1002/esp.4353, 2018. a